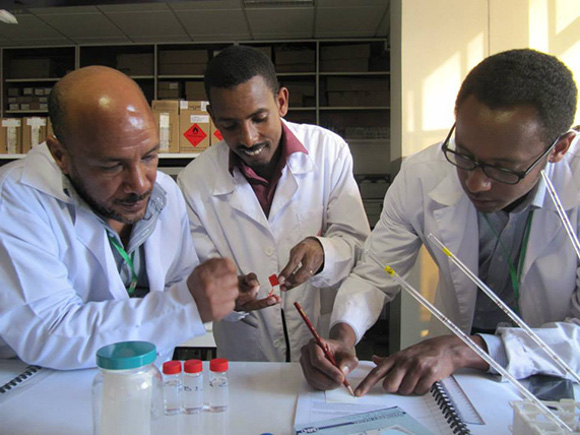 Minilab training in Addis Ababa for pharmacists from Ethiopia and Sudan
Determining quickly and reliably whether a medicine is counterfeit or authentic, and how much active ingredient it contains: The Minilab developed by the Global Pharma Health Fund (GPHF) makes it possible to detect counterfeit medicines in an instant. Pharmacists in Ethiopia were also given training by GPHF project manager Richard Jähnke on working with the Minilab. Employees from supervisory authorities such as the Ethiopian Food and Medicines Healthcare Administration and Control Authority (EFMHACA), the Ethiopian Pharmaceuticals Fund and Supply Agency (EPFSA) and colleagues from the medical supervisory authority in neighboring Sudan came together at the College of Health Sciences at the University of Addis Ababa.
It is an important victory in the fight against counterfeit medicines. Trading and delivery routes of medicines in Ethiopia and the neighboring regions remain opaque, with better monitoring urgently needed. The GPHF-Minilab, which is the size of a suitcase on wheels, is a compact mobile laboratory, which now also enables pharmaceutical experts in Ethiopia and Sudan to check medicines quickly and cheaply for their authenticity. In this way, counterfeit medicines can be identified in time and removed from circulation.
The health risks associated with counterfeit medicines were also the topic of a live program broadcast by the university radio in Addis Ababa. Studio guest Richard Jähnke pointed out that people in the developing countries of Asia and Africa are primarily affected as these countries often lack the preconditions to effectively control and monitor the drug supply. This is where the Minilab comes in as it makes it possible to check the medicines marketed locally without the need for sophisticated and expensive laboratory technology. Morethan 650 of these mobile compact laboratories from the Global Pharma Health Fund (GPHF) are in use worldwide.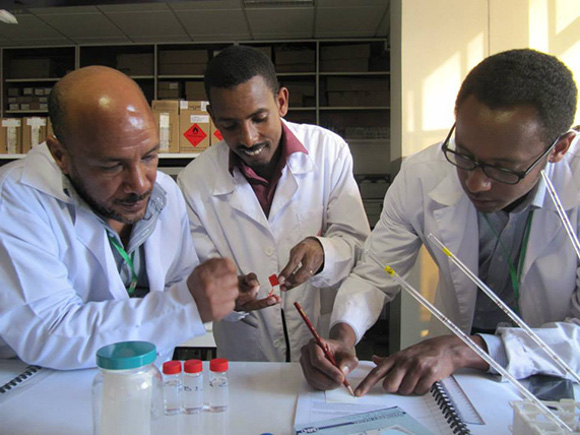 The objective of the Global Pharma Health Fund, supported by Merck, is to train medical staff locally, explain health risks to the inhabitants of developing countries and coordinate donations of medicines. In doing so, the GPHF is building on collaboration with renowned partners such as the World Health Organization (WHO), the United Nation's Children's Fund UNICEF, the German Society for International Cooperation (GIZ) and church aid organizations.
Source: Merck-Africa