"Ethiopians are never without their injera."
The wise words of Chef Mesfin from Addis Ababa ring true throughout Ethiopia: there's injera, tibs, shiro, fir fir – the indecipherable list continues – on every menu.
But those words mean nothing to most first-time visitors and if you've never had Ethiopian food, ordering lunch can be somewhat intimidating.
If you're going to be exploring Ethiopia, a country of distinctive traditions and dramatic natural beauty, Addis Ababa is the perfect place for an introduction to the unique cuisine. The city offers an excellent opportunity to understand Ethiopia and its people through food, drink and dancing – here's how to do it best.
Morning wake-up call
As the birthplace of coffee – the beans are said to have been discovered by an Ethiopian shepherd named Kaldi and his goats – it's only right that you begin your day with a cup.
Head to Piazza, the centre of Addis Ababa's chaos where a few old Italian buildings remain and the ebb and flow of minibuses fill the air with diesel smog. It's lively and loud but makes the search for coffee more rewarding. Duck into the Piazza Bar and Restaurant, a simple establishment always bustling with locals, for a taste of the traditional Ethiopian coffee ceremony.
Take a table by the bar and watch as your buna (coffee) is roasted, ground and brewed on hot coals as the smell of incense wafts through the air. Traditionally, coffee is served black with sugar and occasionally a sprig of rue, which gives the thick liquid a pleasantly refreshing flavour.
Nearby, just off Churchill Avenue, you can stock up on beans or ground coffee at Tomoca – the city's first ever coffee shop, opened in 1953 – who roast only the finest highland-grown Ethiopian beans.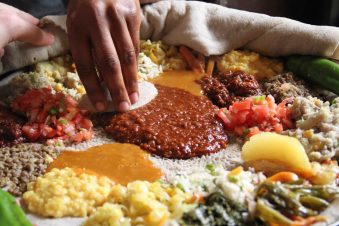 Local lunch
This is where the learning curve really begins: your first taste of injera. Made from teff – a gluten-free grain – injera is a sourdough, spongy pancake-style bread that forms the base of every Ethiopian meal and is usually topped with a number of curries and stews.
You could walk into almost any restaurant in Addis for a meal of injera, but head to the Chechnya District, near Atlas Junction, and you'll find a plethora of quality restaurants where you can join local office workers on their lunch breaks for some communal Ethiopian fare.
Tadese, on Mickey Leland Street, serves an extremely moreish shiro (a spicy chickpea powder-based gravy) and dinich be siga (a beef and potato stew) on injera. Sit in the back, under a ceiling of bright paintings depicting coffee ceremonies and wedding celebrations, and roll up your sleeves: no knife and fork necessary, your hands are your utensils here.
Using your right hand only (the left is used for ablutions in Ethiopia) break off pieces of injera and use it to scoop up a little bit of everything.
For meat-lovers, nearby Yilma is the best butcher in town and its adjoining restaurant is most popular for their healthy portions of tibs: barbecued beef, often served on sizzling hot plates, eaten with rolls of injera and a spicy berbere (chilli)dip.
The freshest finds in the city
While Ethiopia may be a landlocked country, good fish is surprisingly easy to find. The South Rift Valley Restaurant, also in the Chechnya District, serves up tilapia, freshly caught from the lakes, deep-fried and eaten off the bone.
East of Chechnya, around ten minutes in a taxi, you'll find Shola, the second largest market in Addis. It's a sprawl of stalls selling anything and everything. Each one is piled precariously high with their wares, which range from colourful mesob (traditional injera baskets) and cow-skin lunchboxes to live chickens and all manner of spices.
It's here that you can find the ingredients that make up Ethiopia's unique and varied cuisine, and spot the distinctive clay coffee pots used in traditional ceremonies. Spy piles of teff alongside barley and corn, which are used to make local beers and spirits, and let the pungent aroma of the berbere spice mix fill your nostrils.
Ethiopians don't have much of a sweet tooth – except when it comes to coffee – so when you're in need of a pick-me-up, head to one of the roadside juice bars, where mango, guava and avocado are puréed into a deliciously thick smoothie.
Addis Ababa by night
A stay in Ethiopia's capital wouldn't be complete without an introduction to its energetic nightlife. Addis is often cited as one of the safest cities in Africa, so after-dark excursions need not be avoided.
Start your night at Fendika Azmari Bet, a hole-in-the-wall nightclub run by world-famous Ethiopian dancer Melaku Belay that always makes for a lively night out. The action starts around 10PM and usually involves live music, plenty of tej (a sweet honey wine) and some obligatory traditional dancing from the entertainers and audience alike.
If you find Fendika is too full, there'll be plenty of space at Habesha 2000 or Abyssinia. They're substantially more touristic than Fendika, with waitresses in traditional costumes and giant props littered about the place, but are equally animated and have a good selection of local beers (try Amber for a change from the usual flavourless lagers) to help you loosen up before shaking to the infectious Ethiopian beats.
Source: Suitcase Mag
By: Lottie Gross