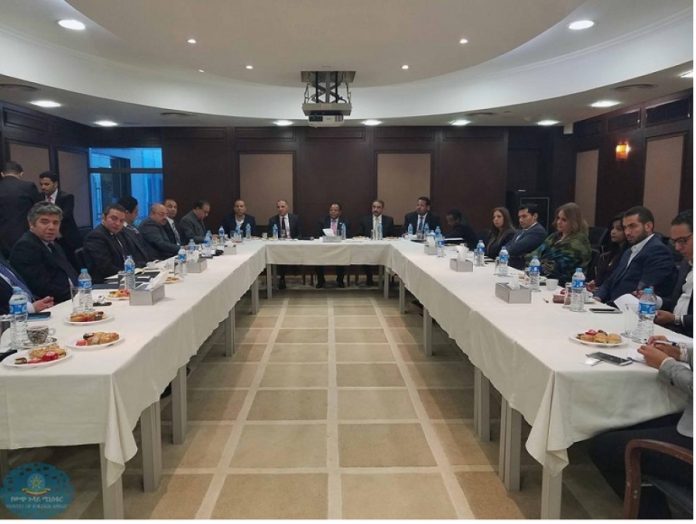 Improved business relations can play a great role in strengthening the overall relationship between Egypt and Ethiopia, Ethiopia's Ambassador to Egypt Ambassador Taye Aske-Selassie said.
Ambassador Taye held a roundtable discussion with Egyptian businesspersons in Cairo, Egypt, yesterday.
The discussion was attended by over 20 Egyptian businesspersons who are investing in Ethiopia and potential investors.
Ambassador Taye thanked Egyptian Investors for their contribution to the economic development of Ethiopia and briefed potential investors about the business opportunities, according to Ministry of Foreign Affairs.
The Ambassador also discussed the upcoming Ethio-Egyptian business forum.
He emphasized on the need to further enhance business-to-business ties between the two countries, stressing that existing hurdles could be resolved by working together.
The co-chair of the roundtable discussion Ahmed ElSewedy, an Egyptian investor in manufacturing in Ethiopia, shared his experience of doing business in Ethiopia and encouraged other Egyptian investors to follow suit.
ElSewedy underlined that enhanced business ties would support strengthened overall relations between the two countries.
In a related news, Ambassador Taye held discussion with Egyptian parliament and members of the African Affairs Committee during his visit to the Egyptian Parliament on November 27.
The discussion covered a number of issues of mutual concern, including ways to reinforce the relationship between Egypt and Ethiopia and the construction of the Grand Ethiopian Renaissance Dam.
He emphasized GERD would not harm Egypt's interests and underlined Ethiopia's keenness to continue negotiations with Egypt and Sudan. GERD would not only benefit Ethiopia but also other riparian countries including Sudan and Egypt.
Source: ENA